Atlantic Lottery Expanding Online Casinos into Different Canadian Provinces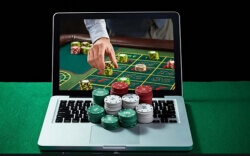 The Atlantic Lottery Corporation (ALC) is currently catering to four of the provinces in Canada. It is eyeing up expansion into two further provinces going forward. Back in August, ALC launched online casino gaming in New Brunswick for a test period.
There was also agreement from Prince Edward Island last month about doing something similar, with Nova Scotia also looking to get involved. Newfoundland and Labrador officials are still considering following suit.
Expansion of online casinos in Canada
As per Canadian law, most types of gambling are not legal in principle, but the provincial lottery corporations can operate some forms of gambling. The three biggest provinces already have their own corporation, being in Ontario, British Columbia, and Quebec.
As well as the ALC, the final corporation is the Western Canada Lottery Corporation. These latter two have been somewhat behind the others in terms of their rollout of online casino gaming. However, this has been changing in recent times.
The onset of the COVID-19 pandemic appears to have been a catalyst for the expansion of online iGaming in the region. Land-based casinos have been closed for extended periods and local economies have been suffering. Online casinos could be a source of revenue for the local governments.
There is a push in Ontario to bring the monopoly of online casinos to an end and there is also a movement to allow single-game sports betting in the country.
Potential for good profits
Some of the regions that the ALC works with are pretty small. For example, Prince Edward Island has a population of little more than 150,000 people. However, ALC believes that online casinos can profit by about $750,000 annually in the region.
If each of the four provinces fully commits to online casino gaming, net revenue could be over $10 million each year. Nova Scotia is the biggest of these provinces, representing 40% of its population. The Nova Scotia Gaming Corporation has been taking a conservative approach in recent times.
The New Brunswick test phase has seen the launch of 44 casino games from IGT. As well as slots, there are some table games like roulette, blackjack, and three-card poker. So far so good in the region.
Written for online-casino.ca by Paul Lucas - 17-01-2021