Nova Scotia Closes Gambling Awareness Service, Still Contemplates Legal Online Casinos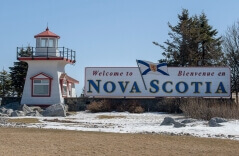 The Department of Health in Nova Scotia brought an end to Gambling Awareness Nova Scotia. This non-profit group was officially closed at the end of 2020 and it was responsible for researching, preventing, and creating awareness around the subject of gambling addiction.
It was also obtaining and distributing funds earmarked to combatting the damages that problem gambling causes. For example, a portion of revenue from video lottery terminals was going to this non-profit, with these sums matched by the Gaming Nova Scotia organization. From now on, these services will be a part of the general offering of the Mental Health and Addictions in the Department of Health.
Naturally, critics have not been happy with this closure, particularly during the COVID-19 pandemic and with gambling expansion taking hold across Canada.
Potential for casino gaming
While the gambling awareness dedicated group is closing down, legalizing casino gaming is still on the table. The Atlantic Lottery Corporation is eyeing up opportunities across most of the provinces in Canada today. It has already launched a pilot scheme last August in New Brunswick and is set to do something similar in both PEI and Nova Scotia. Newfoundland is still holding out on following suit.
One of the aspects of the rollout plan that has caused some controversy is the high limits. The max bet for slot spin in the ALC's online casinos is $100, with the max bet per hand of blackjack set at $500. However, the video lottery terminals in New Brunswick have a max stake of just $2.50. ALC believes that higher stake limits are needed in order to be competitive with the offshore online casinos that target Canadian players.
The hope is that if casino gaming comes about, gamblers will receive better protections in a regulated market than using black market sites. However, the lawmakers will ultimately decide what sort of structure will be in place for online casino gaming.
There will certainly be many debates on the topic. This is something that is also being heard around the country with the push to federally legalize single-event sports betting. This is another tidal wave coming in the future to the country almost inevitably.
Written for online-casino.ca by Paul Lucas - 16-02-2021