No Room For Horse Racing in Canada Single-Event Betting Bill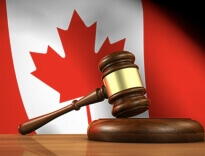 There has been a strong push over the past decade to try to get single-event sports betting legalized in Canada. For some time, bettors have only been able to place parlay bets on sports events through the regulated sector.
As a result, large sums have been flowing to bookies who have links to organized crime, as well as through offshore sports betting sites. Therefore, the regulated sector and the various governments are losing out on a lot of potential tax revenue.
Easing attitudes to sports betting is also becoming more widespread, with over a couple dozen states in the US have legalized sports betting over the past few years. A bill that was submitted into the Canadian legislature by Kevin Waugh has been making good progress over the past month or so. It got strong support following an intimal House vote.
However, a special House committee has decided to remove horse racing from the bill. This means that horse racing will remain under the remit of the Canadian Pari-Mutuel Agency. The reason for this exclusion is because a complete overhaul would have been needed for the industry. Currently, the racing world in Canada relies heavily on the 0.8% cut that it gets from every horse race bet.
Where does this bill stand?
The single-event sports betting bill now is due for a third reading in the House in the coming weeks. While the politicians are on a two-week break for Easter, the hope is that they will consider this bill again upon their return and vote it into the Senate.
If the Senate also approves the bill, then the final step before it goes into law is for the Governor-General for Royal Assent to put pen to paper. Therefore, there is plenty of optimism about this bill. Lawmakers from all political parties have largely supported its passage, especially at a time when there is a need for new sources of revenue.
The COVID-19 pandemic has caused a lot of economic trouble throughout the country. Single event sports betting could certainly be a help in improving this difficult situation.
Written for online-casino.ca by Paul Lucas - 29-03-2021