theScore Bet Becomes the First Canadian Official Betting Partner of the PGA Tour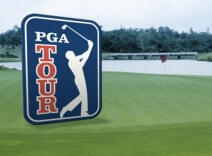 theScore Bet is now the first official sports betting partner for the PGA Tour in Canada. The two parties recently announced their new partnership which will cover both the US and Canadian markets. theScore Bet is now the fifth betting partner for the leading professional golf tour in the United States, but the first in Canada.
As part of this deal, the PGA Tour will be incorporating daily odds updates in its live audio play-by-play distributed across various radio and digital channels. theScore Bet also has the ability to advertise with the PGA Tour, as well as its media partners. The belief is that the popularity of theScore sports media app will help to boost fan engagement for the PGA Tour as it releases more and more relevant content.
Expanding in the US
theScore Bet is a mobile-only sports betting offering that is only live in the United States at the moment. It is up and running in four states currently – New Jersey, Indiana, Iowa, and Colorado. The Canada-based operator also plans to expand into other states in the coming months.
One of those states is Illinois after the operator signed a deal in March with Harrah's Joliet Hotel & Casino, Caesars Entertainment property. This sportsbook launch is set for the second half of 2021. It still needs to get regulatory approval from the Illinois Gaming Control Board before it is able to get up and running.
Chances for legal single-event sports betting in Canada
Naturally, single-event sports betting is still not legal in Canada. However, legislation is making good progress in an attempt to open up this sector. Hopes are high that Canadians could have legal single-event sports betting in the near future.
The state legislature is currently working towards passing this bill. To date, horse racing has been removed from the remit of the proposed legislation, as a big reshuffle of the sector would have been needed.
Bill C-218 was first introduced by MP Kevin Waugh in February and he expects a further reading of the bill in the House at some stage over the next month or two. The potential betting market in Canada would be massively lucrative. The Canadian Gaming Association estimates that about CA$14 billion is bet through illegal sports betting operations each year.
Written for online-casino.ca by Paul Lucas - 08-04-2021