Ontario Set to Be the Watermark For Legal Online Gambling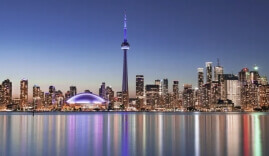 As the Canadian gambling scene looks like it is going to go through a monumental change in the near future with the likely legalization of single-event sports betting, Ontario is being eyed up as the key region for this wave of change.
Quick to embrace change
The Ontario government has always been quick to look to embrace any potential changes. In anticipation of more expanded sports betting, the government in Ontario launch a consultation last April into the online gambling space. The goal was to figure out what the best regulatory approach for the province would be in the case of expansion.
While it has not set anything in stone as of yet with this framework, it has already had a lot of key discussions on the matter. This means that it will be ahead of most other regions when it comes to putting a strict framework in place.
A lucrative potential market
The Ontario government believes that allowing single-event sports betting will allow the government to get its share of the current gray market that exists. The estimates of legal single-event sports betting range between $500 million and $11 billion annually.
However, the focus of the Ontario government is making sure that there will be a fair space for businesses to compete with each other. It also wants to make sure that proper responsible gambling policies are in place and that it will be the first regulated marketplace to launch in the country.
Lawmakers should now in the coming weeks what the outcome of efforts in the Canadian federal legislature or push through the single-event sports betting bill. If the bill gets the final green light, then you can be sure that the Ontario government is going to be ready to go and be quick off the mark with its new rules and regulations.
Written for online-casino.ca by Paul Lucas - 21-06-2021