Legalised brand in Canada takes online gambling players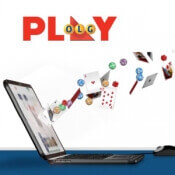 FOLLOWING in the footsteps of several other Canadian provinces – including Quebec, Manitoba, British Columbia and Atlantic Canada – Ontario launched its own online gambling site in January this year: and now this legalised brand can be declared a definitive success.
As statistics reveal that searches for online gambling have slumped during the last three months (according to google stats), Playolg.ca has bucked the trend thanks in large to a focused marketing campaign which has highlighted its position as a legitimately legal online casino service, as well as the fact that the site is "conducted by Ontarians, for Ontarians".
According to the PlayOlg.ca website, the casino has two main goals: to provide a secure and safe gambling platform, while simultaneously generating revenue for the province of Ontario. Its goal is to raise $375million for the province, including its hospitals. It achieves this not only with traditional online games including blackjack, poker, roulette and slots; but also with a host of lottery products such as 6/49, ENCORE and LOTTO MAX.
It appears that this marketing approach has prompted casino users to turn their back on offshore alternatives, preferring a casino that places the emphasis on playing responsibly and with reassurance. Playolg.ca has some of the most powerful protections in the industry with a series of commitments aimed at keeping personal information confidential and secure. In addition, it has a dedicated responsible gambling section with tools designed to help gamblers manage their play online.
Ethan Taylor, spokesman for online casino review website Online-Casino.ca, believes that the upsurge in interest in this legalised online casino offers both pros and cons for potential gamblers.
"It goes without saying that a legalised casino brand is good news for responsible gamblers," he said. "However, more needs to be done to provide fair competition across Canada.
"While Playolg.ca undoubtedly has a host of advantages – especially by providing charitable programs for the people of Ontario – there are some issues with the site too. For example, there are a number of player restrictions that are not generally found among its offshore competitors; and its promotional offers are comparatively limited. As such, while its terms are attractive, it could be argued that gamblers will get 'more bang for their buck' by seeking alternatives.
"With this in mind, at Online-Casino.ca, we are calling for the Canadian authorities to open up the market to create more fair competition. The people of each province should have much more than just one legal casino to choose from to ensure that rates and promotions are competitive and that consumers are the real winners."
Canada has gradually been taking steps towards legalising gambling since having a no tolerance policy in the 1960s; though some provinces continue to outlaw casino games, including Prince Edward Island, Newfoundland, Labrador and New Brunswick. While the Criminal Code in Canada does not specifically state that gambling online is illegal, the law in the provinces without an official online casino generally appears to prohibit gambling on the internet within Canadian-based casinos – however, it does not restrict those based in other countries.
That is why Online-Casino.ca believes it is time for Canada to open its market and create a platform for a more competitive marketplace. This should combine the 'best of both worlds' in which consumers can feel safe and secure by enjoying legalised gambling in a protected environment, while also reaping the rewards of exciting promotions and offers that help put their power in their hands.
Written for online-casino.ca by Paul Lucas - 24-09-2015