Sports Betting to Become Legal in Ontario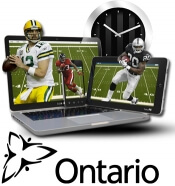 While players are limited to betting on three games at once, an old bill has resurfaced that has made legally betting on a single game a likely reality.
If you have been closely following gambling laws in Canada, you probably have not only heard of Bill C-290, you are probably sick of hearing about it. It was first introduced in 2011 by New Democratic Party (NDP) Member of Parliament (MP) Joe Comartin to legalize betting on a single sporting event. Five years later, in 2016, it is now looking as though it could actually pass. It's not surprising because of what it is trying to do, it is surprising in the, "Wow, is this finally going to actually happen?" sense.
As it stands, betting on a single sporting event is not legal in Canada. You can bet on three or more sporting events at one time, which is a lot more difficult to win than a bet on a single game. The thought there is that it makes cheating much harder than it would be if there were single event betting. But as Jim Warren of Riseley Gaming Inc. has pointed out, there are plenty of online sites unregulated by the Canadian government that offer the single betting option to their citizens, so if anything, making it legal in Canada would decrease the likelihood of cheating by employing stricter regulations and oversight.
That isn't the only benefit, as Joe Comartin and the chambers of the House of Commons have pointed out. After it was passed there unanimously, the bill underwent an additional reading in the Senate. The chambers pointed out a number of additional benefits, which included the opportunity to bet on a single game without having to go through an illegal local bookie, who often have connections to organized crime. This makes it a physical safety issue on top of the financial safety issue of going through unregulated online casinos.
One benefit is undeniable: passing the bill will increase provincial revenue, creating an additional revenue source that that can go towards such important social programs as education, health care, and senior aide. Further points made from an economic standpoint are the additional jobs that the bill will create (estimated to be 250 in Niagara alone). Right now, Canadian casinos are not allowed to offer the single sporting event bet, which makes sports betting exceptionally less popular than areas that allow it. If the bill is passed, the demand for sports betting will create a need for jobs, and will therefore further stimulate the economy on top of the obvious revenue of more bets being placed.
United States casino lovers who enjoy placing a sports bet will also be turned off by the prospect of heading to Canada to play at the casino if they are limited to placing a bet on three sporting events at once. Many US players live closer to a Canadian casino than they do to an American casino, so getting rid of that turnoff will presumably increase tourism from United States players who would rather not make a longer trip for pretty much the same experience. To really drive that home, only four states in the US have legal sports betting (Nevada, Delaware, Montana, and Oregon), making it very likely that the Canadian casinos will be closer to tens of thousands of interested American bet-placers.
Basically, the supporters of Bill C-290 have made it clear that it will increase revenue that can go towards social services, increase American tourism, increase public safety, and increase regulations that can prevent cheating and rigging rather than encourage it. Parlay bets through the lottery is what sports betting regulated by the Canadian government is limited to, and when you make something so extremely popular so significantly less appealing, you force players to go elsewhere, and sacrifice the opportunity to create jobs and revenue. When a miniscule 3% of the $4.2 billion that was bet on the Super Bowl was placed legally, a change needs to be made.
The bill has been tossed this way and that, disappeared and buried, and then reappears and becomes uncovered. It has recently been reintroduced to the House of Commons, and based on history repeating itself; it will pass and move into the senate. With the revival of support and the continued dialogue, there is a very good chance that the bill will be actually passed this time.
It is an exciting time for both American and Canadian players who want to place a bet on a single sporting event, be it boxing, football, soccer, hockey, or anything else. It is also an exciting time for the Canadian economy as a whole.
Written for online-casino.ca by Paul Lucas - 16-03-2016