Canadian Bettors Gamble Heavily On 2016 US Presidential Election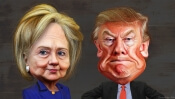 NYX Gaming was just recently made available to players in British Columbia, becoming a new and exciting option for bet placing, from standard casino games to the sports books. This news made waves in the online casino Canada industry news circulations, but what the new BC players flocked to in the hopes of winning is perhaps more notable (or at least more interesting.)
Players bet thousands on the 2016 US Presidential election, a tumultuous affair followed avidly by folks in North America and around the world. The entertainment value alone makes it no surprise that bets were being placed, but when Paddy Power is reporting more betting on politics this month than they received bets on the Super Bowl, it's worth paying attention.
What's even more interesting is the complete uncertainty when it comes to predicting what the American people will do in the voting booths. With some bookmakers having put Clinton as a strong favourite while giving Donald Trump a +400 underdog score (meaning a $100 bet would win you $400), player interest should be more than piqued given the election results. A Trump win could have paid out very, very nicely (and did pay out nicely). Canadians may not have a dog in the American elections fight, but they can put some money on it.
This is kind of in pace with the opportunity to bet on Academy Award winners and other non-sports-related sportsbook betting options. With the availability of legal online bookmakers popping up as accessible in different provinces on a seemingly daily basis, it's worth looking into the option of placing bets outside of typical go-to's, like hockey, football, or soccer.
It's impossible to tell where American politics will go from here, but it's safe to assume that it will be interesting and filled with betting opportunities.
But here's where it gets very enticing (and predictive on my end), if the US election garnered more bets than the Super Bowl at some bookmakers, we're sure to see special bonuses specifically for upcoming elections, much like they have for major events like the Super Bowl. Whether that's deposit bonuses or odds boosters remains to be seen, but it isn't a stretch at all to consider the concept as more than intriguing, especially to the smart bettor.
The future of America seems decidedly grim to most, but the future of online casinos and bookmakers looks better and better to bettors by the day.
Written for online-casino.ca by Paul Lucas - 14-11-2016