New App, Casino Rush, Now Available to Canada Players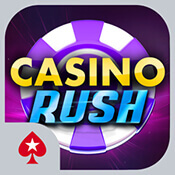 If you've browsed the online casino app options, you know that the choices are woefully disappointing, and for Canada players, it normally makes a lot more sense to just play the flash version of one of our top casino picks. However, there looks like there's some hope on the horizon.
PokerStars have just released Casino Rush, an app that has its sights set on doing away with the rightful prejudice that playing an app casino is extremely limiting. While the major focus is player-to-player poker, which makes sense since that's PokerStars' main focus, they also have Slots, card games, and table games.
It's important to note that you are not able to play it with real money, as is the case with online casino apps, and that's definitely a bummer, but given the fact that you can easily play the flash version of the best casinos from your web browser app, real money play isn't too important.
They explicitly say in the app store description that playing for fake money doesn't guarantee that you'll win real money elsewhere.
And fair play to them, and they're right, there is no guarantee, but it definitely will help you. That's the whole reason why software companies like RTG and Microgaming allow players to try out their games for free in demo practice mode. Not only can you actually try out the games to see if they merit you risking your money on it, you can develop your strategy and skill and familiarize yourself with the option. With online poker, this opportunity is boosted even more, as you will have a new outlet to read a new group of players, which absolutely will make you a better player in real-money rooms.
What really sticks out to us about this casino app is that PokerStars has crafted it specifically to fill the gaps that were prevalent in existing apps. They listened to the players, they focused on what they felt was absent, and they made an app that is truly innovative. If you're on the go and looking for some casino action without risking any money, this is definitely the app to go for.
But what's really exciting is the idea that a well-rounded online casino app exists, and while it doesn't have the real-money option at this point, it could very easily switch over once the laws become more liberal (we truly believe they're just prolonging the inevitable.)
When you sign up, they give you 75,000 free coins to play with, and then you can purchase (or win, obviously) more coins, though as you unlock games, you are given more bonus coins as well, and with the ongoing promotions, there will be crazy good coin deals, guaranteed.
What's awesome about the mix of casino games and poker is that you can build up more coins playing table and card games, and then take those coins and go into the poker rooms as a powerhouse.
The lack of options and the inferior quality of the games is where the competitors were falling short. PokerStars and their new app aim to change the game.
Written for online-casino.ca by Paul Lucas - 11-12-2016