MGM and BC Lotto Hoping to Curb Problem Gambling with Responsible Gaming Initiative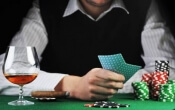 Those already familiar with online casino player are also familiar with the term "responsible gaming." It's an emphasis many online casinos put on player safety and security in a way that goes beyond simply SSL encryption or reliable banking methods. Instead, it offers outlets for problem gambling, like opting to ban yourself from being able to play for a certain amount of time or permanently, as well as ensuring that all players are eighteen or older and giving players the tools they need to play smart strategically and at a personal financial level.
Well, it looks like MGM Resorts and British Columbia Lottery Corporation are following suit in a similar way, announcing the launch of a responsible gaming initiative to curb problem gambling and help those who have already fallen under its addictive tendencies.
In fact, they met at a responsible gambling conference, which sounds like they're taking things almost comically seriously. But hey, problem gambling is a big problem, especially given how incredibly easy and convenient it is to play from home or your mobile device.
So, what will the program entail? They will be allocating funds to community outreach to show players the best way to budget and set time limits, two crucial ways to ensure player safety and to curb problem gambling. Since the casino always has the advantage over the player, you must go into every casino whether it's online or land-based to have fun, relax, and be entertained by the excitement, but not to win money. If you're ever banking on a bet to pay for something or get you out of anything, that's an enormous red flag. Resources like this one and around the web are there to help you specifically for this reason.
Another aspect is the relationship between drinking heavily and playing casino games. While they are not trying to ban free drinks at the casino, identifying obviously inebriated players could be a good way to curb the devastation of gambling what you can't afford to gamble.
However, they did say that identifying players as problem gamblers is not their intention, and will instead make it easy and obvious that help is there whenever players need it.
As long as they don't restrict our access to play the games we love and it's only offered to those who seek it, we're all for it. Let's play safe, have fun, and may luck be with you!
Written for online-casino.ca by Paul Lucas - 24-02-2017