A Live Casino Studio Comes to Canada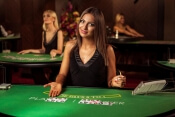 Live Casino play is one of the most evident examples of online gaming innovation. As developers strive to craft games with as much realism as possible, packing realistic animation, sound effects, design, and general gameplay into every option, it's undeniable that you're playing the virtual version of a land-based casino game. With the Live Casino, players are actually getting the real thing streamed directly to their screen.
Many online casino Canada players are undoubtedly familiar with the Live Casino, as many offer it as an option. Despite the Canadian government cracking down on playing outside the country, there are still plenty of high quality international sites still accessible to CA players. But now it's even less of an issue of accessibility, as Evolution Gaming is opening up a Live Casino studio in British Columbia.
After approval from the province's Lottery Corporation and locking down a 16,000 square-foot site, players in Canada and particularly BC will be able to play games like Blackjack, Poker, Roulette, Craps, and Baccarat from the comfort of home streamed from their own backyard.
This is an exciting new development particularly because it showcases the government's awareness of the competition. Initially, state-run online casinos paled in comparison to many international competitors, who offered far more extensive selections of games and features and even higher quality graphics. In fact, if you preferred the Live Casino over the virtual options, you were out of luck with your domestic options. With Evolution Gaming's studio and other developments that actually make the Canadian options comparable to their offshore counterparts, new and very promising potential seems to be on the horizon.
Furthermore, opening up any new business creates jobs, and one of the big bonuses of playing at a Canadian online casino is that you're keeping the money flowing within your community's economy. With the studio opening, local jobs will be created, more people will switch from foreign casinos to domestic, and an influx of money will come into the home base. That's a lot of plus sides to what would otherwise be a fairly benign story.
In a time when casino restrictions seem to be the norm around the world, a few countries are taking advantage of its popularity and the fact that it isn't going anywhere by embracing it and creating a version that's best for the average Canadian citizen.
It's nice to get good news in today's world. This is good news – get ready for some exciting gaming potential with the unmatched realism of a Live Casino.
Written for online-casino.ca by Paul Lucas - 18-04-2017