47 Days of Christmas at Mr Green Casino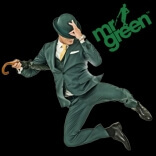 It's Christmas season and families and friends are once again replaying the songs of the season and decorate the halls in festive colors. It's also a time to be merry for many thanks to parties, gifts, and the spirit of sharing and fun. And this is exactly what you can see and feel in the air: radio stations are playing the songs and restaurants and department stores are decorating the walls.
But aside from these usual sources of joy and inspiration for the season, you can also feel the cheer and spirit from your popular online casinos. One leading online casino operator that's into the season of fun and giving is Mr Green. At Mr Green, December is a special time to deposit and play real money games thanks to its '47 Days of Daily Christmas Rewards'. That's right, you don't just enjoy 12 days of Christmas. As a member of this casino, you can enjoy 47 days of perks and bonuses designed for the season. Starting from November 15 up to December 31, you can take part in this Christmas promotion for a share of the €1,000,000 in prizes and amazing holidays. Are you ready to opt-in, play, and take home the prizes?
Shake and Play for the Prizes
At Mr Green, players have access to innovative promotions that are both fun and easy to complete. This is clearly shown in its new promotion that's available for all new depositing players. To participate, just follow the steps below:
1. Visit Mr Green from November 15 to December 31, 2019.
2. Opt-in for the promotion to participate.
3. Once in, you simply shake the Mr Green's snow globe to reveal or unwrap the prizes and casino bonuses.
What are the Rewards to Expect from this Promotion?
Based on the latest announcement from the operator, the total prize package worth that can be won is €1,000,000. However, the individual prizes that you can collect each day of the promotion remains a mystery. But we are sure that the prizes and rewards that you can collect each day will include free spins, table games bonuses, deposit bonuses that chance to win an all-expense paid holiday.
To fully experience the promotion and collect the prizes, we highly recommend that you opt-in and play.
What remains clear from the promotion of the casino is the adoption of the General Terms and Conditions. As a fully licensed online gaming platform, Mr Green strives to provide responsible and highly secure promotions. This offer is reserved for members of the casino who are at least 18 years of age and the bonuses are offered to just one IP address and email at a time.
Written for online-casino.ca by Paul Lucas - 28-11-2019