Canada Follows Australian Lead, Pushes for Domain-Blocking Order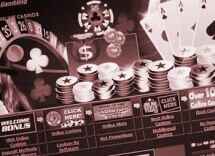 A few days ago, the Australian Communications and Media Authority or ACMA has strengthened its campaign against illegal gambling online. To help police the online gaming environment, the office issued a request to local internet service providers to block certain domains that are not authorized to serve the needs of players from Australia. This was seen by many as a bold step in promoting responsible gameplay online.
Now, Canada is following this move by approving and releasing a similar order that can help block unlicensed operators.
Court Order Released November 15
The latest development in the Canadian gambling industry involved a federal judge issuing a ruling last November 15 which officially grants the request of the leading broadcasters and Internet Service Providers to block a network of websites that are owned and operated by GoldTV. The network of websites run by the company is known to operate an unauthorized streaming services to customers based in Canada. Based on the ruling penned and issued by Justice Patrick Gleeson, the websites indicated in the complaint should be blocked in 2 weeks.
Not all telecom firms in the country approved this order. Teksavvy Solutions, a company based in Ontario opposed the move to block the domains owned and operated by GoldTV due to financial concerns. Also, the company expressed its concerns that this order is not necesarily required and cannot be considered as effective. Furthermore, the telecoms company also argued its case by citing a ruling by the Superior Court of Quebec (July 2018) which dismissed the previous efforts of the government to block the domains of online gambling websites that are licensed in other countries. This was seen as a move to protect the provincial monopolies for games particularly by Loto-Quebec. In this case, the Court indicated that the blocking of domains is unconstitutional.
Reasons for Domain-Blocking
In his opinion, Justice Gleeson argued that the continued operations of GoldTV will cause harm to the industry. He further added that free speech and net neutrality are not enough to counter the possible harm that can be caused by the continuous operations of the network of websites.
How the Order Impacts Online Gambling
Although the order of justice refers to copyright infringement claims, it paves the way for the discussion of online gambling websites that are in direct competition with some of the leading provincial gambling monopolies. With the release of the order, this can serve as a precedent for the operators of these monopolies to raise the same argument and block foreign gambling operators that are in direct competition with their businesses. If such a move happens in the future, casino players from Canada shall be denied the chance to choose which games to play and where to put their time and money.
Written for online-casino.ca by Paul Lucas - 18-12-2019