Mr Green Announces Its Wings of Ra Promotion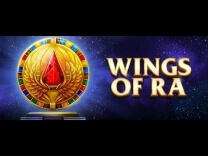 With Mr Green Casino, you can always expect something, big, and even better. If you're a customer from Canada, then you'd be happy to note that the casino is currently running a promotion based on its new game called Wings of Ra, a 10 payline and a 5-reel slot game that is powered by Red Tiger Gaming. The spotlight is on this new game, and you should learn more about its details.
The game has an ancient Egyptian theme and is compatible with tablets, mobile phones, and PCs. A single spin of the Wings of Ra can costs you between 10p to £20. The game also comes with Free Spin features which allow you to replace low-value symbols with premium value Mystery Coins. The reels display higher value symbols which can bring in bigger wins or even the jackpots. As one of the latest offerings of Red Tiger, this game comes with an RTP of 95.69%
Wings of Ra Symbols and Themes
Wings of Ra is an ancient-Egyptian-themed slot game. When playing this game, you encounter the Eye of Ra, Tutankhamen, Horus, and pharaoh. The pharaoh is the most premium symbol as it earns you 3, 10 or even 30 times more than your stakes. The combination of that gives you these wins are 3, 4 or 5, respectively. The slot has 10 playing cards and symbols A, K, Q, and J. It appears at the entry of a burial chamber.
Mystery Coins
The game is unique because of its Mystery Coins. When the coins land, they spin and show the symbol you randomly chose. When you have bigger wins, the Mystery Coins transform into a high paying pharaoh.
Wings of Ra Free Spin Feature
Wings of Ra's free spin symbols are unique rallying points of the slot game. 3 of the symbols appearing on the reels can trigger Free Spin features. This feature can give a free spin for the game. You get 3 extra free spins for each feature with more scatters. This means that with only 5 free spin scatters you trigger, you can get 18 free spins.
There's a special progressive bar available and this is filled with Mystery Coins. You need 14 coins to fill this bar. Whenever the bar gets full, the low paying symbols turn into a Mystery Coin. This means that the filling has to happen several times to earn you high-value symbols and Mystery Coins on the reels.
Some critics would like to dismiss Wings of Ra as an ancient Egyptian themed slot that comes with nothing new or exciting. However, there is more to the game than the criticism. Wings of Ra's capacity to earn you 3,000 x stake on each free spin or spin makes it stand out from the crowd. And with an exciting Egyptian theme available, this is one colorful and action-packed game to try at Mr Green Casino today!
Written for online-casino.ca by Paul Lucas - 05-03-2020