Crazy 100K Giveaway at Mr Green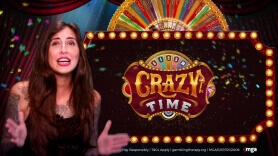 Something crazy, grand, and lucrative is happening at Mr Green Casino for all registered customers from Canada. When you check out its site today, you'll discover an exciting new promotion that runs from June to July 2020. Under this new promotion, you can win a share of the EUR100,000 prize pool.
The campaign officially started last June 12, 12:00 CEST and will end on July 9, 2020, at 23:59 CEST. This exciting opportunity from Mr Green is a multi- brand campaign and it's also available for the registered customers of William Hill. If you're the type of player who's always looking for the freshest casino campaigns, then this 100K giveaway from Mr Green is worth your time.
A Campaign to Enjoy Every Week
In this new campaign, there's a challenge that will happen each week. The first week started last June 6 and for this specific campaign, players are invited t enjoy the 'Flamingo Ballet'. The game spotlight is on Crazy Times where you can strut your winning stuff and join the leaderboard. Under this terms and conditions for this promotional week, you can collect 5 points for every EUR 5 played on the game. The points shall be credited to your account and used as the basis for your position on the leaderboard. Remember, only the Top 200 shall be eligible for the share of the EUR10,000 prize for the week. If you take part in this weekly campaign, make sure you regularly check your position in the leaderboard.
If at the end of the week you collected the right number of points to be the leader, then you win EUR1,500. If your end up second or third, you can collect EUR750 or EUR500 respectively.
Weekly Campaigns on Schedule
If you failed to participate in the first week of this exciting promotion, then you can still look forward to the next four weeks. Mr Green has published the details for the next four weeks so players can plan out their activities on the platform. In the next three weeks, the prize pool is still EUR10,000.
Watch Out for the Crazy Final
If you have consistently participated in the promotion, then you have the opportunity to take part in the crazy final worth EUR60,000. So how does this campaign works and how can you participate in the final prize draw?
Well, a wager worth EUR20 on Crazy Time game will instantly give you an entry into the prize draw. The prize draw shall be hosted on July 9, the last day of the promotion. And if you want to find out if you're a winner, you can tune in to the operator's live draw that will happen on July 13, 19:00 CEST.
Written for online-casino.ca by Paul Lucas - 15-06-2020