Enjoy the Roulette Lucky Numbers at Mr Green Casino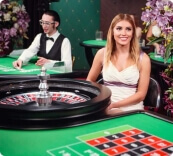 One of the best things about Mr Green is its ability to create new bonuses and campaigns that can appeal to the requirements of different players. The operator doesn't just rely on the standard bonuses, it makes sure that there's a new bonus each week. And one exciting promotion that you should not miss on this platform is its 'Roulette Lucky Numbers', an exciting new promotion for its live roulette game.
To join the excitement, just log in and play the qualifying live roulette dealer games of the casino. And when the roulette ball lands on one of the 'lucky numbers', you collect points based on the amount of wager you play. This promotion boasts a total cash prize worth €5,000 which are awarded to the Top 30 players of the casino. If you love to play live dealer games and you want a share of the prize, then we recommend that you check out this new promotion from the casino.
Follow These Steps to Play and Win
There are three important steps that you should consider if you want to participate in this ongoing promotion of Mr Green:
- Log in to your account. If you're a new player, register an account today.
-Opt in to participate in this new promotion
-Enjoy the participating roulette tables of Mr Green to quality, earn points, and take part in the leaderboard.
With these simple steps, you can now take part in one of the most colorful promotions available at Mr Green. To fully enjoy the offer and to avoid some problems, make sure to check out the other terms and conditions as described below.
A Few Reminders to Keep in Mind
Although this promotion is open to all registered Mr Green customers, you still need to opt-in to qualify. Also, this promotion also runs for a limited time. You will find a timer online which will inform you about the remaining period to play and enjoy the offer. Aside from the timer, you should also pay attention to the qualifying roulette games.
How Points are Earned
Under this Mr Green promotion, your roulette bets don't have to be on the Lucky Numbers to collect points. However, the points shall be awarded if you have an active bet at the roulette table, and the winning number is one of the site's lucky numbers. If you have an active bet between €5 and €50, then you collect 5 points. If your bet on the table is within the €51 to €150 range, you collect 10 points. Once your bet falls between €151 and €300, the system will credit you with 20 points. Finally, if your active bet on the table exceeds €301, then you collect 30 points. In short, the bigger your bets, the higher your chance of landing in the leaderboard. If you're one of the winners, your prize shall be credited to your Mr Green account within 72 hours.
Written for online-casino.ca by Paul Lucas - 23-07-2020