Chase the Money in Play Amo's New Slots Tournament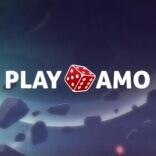 When it comes to exciting casino promotions that test your skills, motivation, and the drive to win, nothing beats the slots tournaments. Compared to other standard casino promotions, a slots tournament adds a layer of fun and challenge into the mix. When you sign up for a slots tournament, you don't just play the games for instant wins; a tournament is also designed to test your skills against other like-minded casino players. If you're up for some competition, this is the promotion to check.
And one ongoing promotion that you shouldn't miss is the Money Chase promotion of PlayAmo Casino that's powered by Boongoo. The prize pool for each tournament is EUR 5,000, and the total prize pool is worth EUR 280,000 where new winners are declared each day. Do you have what it takes to take on the challenge the chase your wins and the money?
A Look at the Prizes of Money Chase
Each tournament, the prize pool is worth EUR 5,000 and it's open to all registered players of PlayAmo who opted in. As part of the promotion, only the Top 100 slot players of the casino will take home cash prizes. If you rank first in the leaderboard, the casino rewards you with EUR 500. You can also get EUR 350 and EUR 250 respectively if you end up second or in third place. And if you land in ranks 4 or 5, you win EUR 200. This promotion offers cash rewards for all successful slots players who are part of the Top 100.
There's an Extra Leaderboard Prize to Win
Aside from the race for points, this promotion also includes the 'Total Extra Leaderboard' prize which is worth EUR 10,000 for every series, and a total of EUR 80,000 for the grand total. Here's a look at the prizes you can collect if you land in the tip 200:
-Rank 1: EUR 1,000
-Rank 2: EUR 800
-Rank 3: EUR 500
-Ranks 4 and 5: EUR 500
Keep in mind that cash prizes are awarded to players who end up in the Top 200. For a complete list of the cash prizes for every rank, we recommend that you visit the site's official campaign section for more details.
Here's How You Can Win
This promotion comes with 8 tournament series, with 5 slots tournaments for each series.
To qualify for this PlayAmo promotion, you need to make a wager of at least EUR 1 or its currency equivalent. For you to be considered, you need to make at least 100 slots spins using the qualifying wager. All scores you earn during the qualification are credited to your account and serves as the basis for your ranking.
To get your score for a specific tournament, the operator will look at your biggest single round multiplier, with 1 multiplier equivalent to a point. If you win EUR 150 using a wager of EUR 5, the multiplier is 30 (150/5), thus 30 points.
How about the extra leaderboard?
You can collect points for specific transactions. For example, a bet of EUR 100 is worth 10 points.
So, are you ready for this exciting PlayAmo race?
Written for online-casino.ca by Paul Lucas - 27-07-2020