NFL Betting Proving to be a Big Success in Canada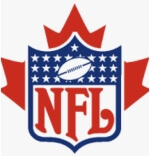 Now that single-event sports betting is legal in Canada, it opens up a lot more opportunities for bettors. The NFL season usually is a massive revenue driver for sportsbooks in the United States and this trend appears to have made its way up to Canada. While the fully regulated single-event sports betting market is yet to launch in the region, the lotteries are able to accept these types of bets.
Since the launch of the expanded PlayNow offering by the British Colombia Lottery Corporation in August, it has taken in over $25 million worth of bets on NFL games. It was on August 27 that single-event sports betting became federally legal in the country.
Speaking about this milestone was the interim CEO and president of the BCLC, Lynda Cavanaugh. She spoke about how the sportsbook offering is in a great position to offer highly engaging and entertaining sports betting to people in the region while also being a safe environment. She also underlined how the revenue from this sportsbook operation goes towards helping to fund important initiatives in the province, including education and healthcare.
A new dawn
Before single-event sports betting was a reality in Canada, operators were only able to offer parlay bets. Now with single-event sports betting, there are a lot more betting options for people to check out. For the initial seven weeks of the current NFL season, betting on the NFL has been up 97% compared to the same period last year.
So far, the week 4 matchup between the New England Patriots and the Tampa Buccaneers got the most action. Of the total bets on this game, 69% were in the form of single event wagers, with 80% of the money spent on bets being for these markets.
NHL betting is also seeing increases, with the total number of bets rising 71% year-on-year for the initial 19 days of the current season. It is still unclear if commercial sportsbook operators are eventually going to be allowed to operate in the province. It is still assessing the current market landscape in order to see if this type of move will make sense.
Expansion on the way in Ontario
The country's largest province is Ontario and it has already committed to having a competitive and open sports betting market, with the goal being to allow commercial operators to get up and running before the end of the year. A lot of notable sports betting operators are eyeing up the market in Ontario.
With 15 million residents, it is the equivalent of the fifth most populated US state. A mature sports betting market could be worth as much as CAD$570 million in revenue each year. Therefore, there is a lot of optimism about what the resulting tax revenue could do for the local region.
Written for online-casino.ca by Paul Lucas - 15-11-2021