Alberta Getting Nearer and Nearer to Launching Expanded Sports Betting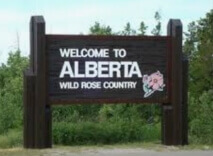 It looks like legal commercial single-event sports betting is nearing ever closer in Alberta. However, it is likely that any such launch will carry certain restrictions with it. This includes lawmakers looking at a system whereby there will be a restricted operator approach taken.
Many experts see Alberta as being one of Canada's major provinces when it comes to the matter of legal single-event sports betting. The province has a lot of sports fans. This is down to there being two NHL teams present in the province - the Edmonton Oilers and the Calgary Flames. There are also a couple of Canadian Football League teams in Alberta.
Despite this level of interest, the authorities in Albert appear to be gravitating towards just allowing two licensed sportsbook operators. This is opposed to the open type of market approach that Ontario is taking. The plan in Ontario is to allow over a dozen different sportsbook operators in the private market.
Kicking off next week
It looks like the process of seeing what sportsbook operators are interested in launching in Alberta will begin next week. The Alberta Gaming, Liquor, and Cannabis Commission (AGLC) will be in charge of this process. Through this request for proposals issuance, it is likely that the AGLC will clarify what approach it is planning to talk with the commercial betting market.
Naturally, stakeholders in the betting sector want there to be an open market. This is a model that will also favor consumers as they will have access to a much more competitive market. This would not be the case if there was a cap of two operators put in place.
The gambling landscape in Alberta
In total Alberta has about 30 casinos. The operators of these casinos have traditionally preferred to negotiate deals with partners themselves rather than having the AGLC acting as a middle man. The Alberta casinos were hoping that there would be an open sports betting. Market. They believe that there could still be significant gray markets in place if there are strict limits on the number of operators that can enter the space.
While they did not think the market would be as open as what is coming into place in Ontario, they still thought that there might be an allowance of between six and eight sportsbook operators. This would supply ample opportunities to stakeholders in the province, as well as provide more choices to bettors.
Written for online-casino.ca by Paul Lucas - 10-12-2021