Worsening COVID-19 Problem Causing Restrictions at Casinos Across Canada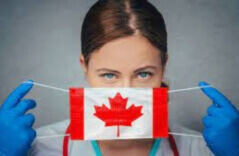 The worsening COVID-19 situation is causing casinos across Canada to close. The Omicron variant of the virus is wreaking havoc all across the world. Many sporting organizations are struggling to keep fixtures ongoing. The NHL for example brought forward its Christmas break by a couple of days due to the situation, with dozens of games already being postponed this season.
The Omicron variant appears to be very transmissible, leading to high case numbers. There are concerns that this will have a knock-on effect of putting a big strain on the healthcare system.
Quebec casinos close
Casinos in Quebec closed for business on Monday at 5pm as a result of the COVID-19 situation. It came on the same day that the province hit a record number of single-day virus cases since the beginning of the pandemic. On Tuesday, there were more than 11,000 COVID-19 cases posted across Canada, with Quebec and Ontario accounting for more than 8,500 of these cases.
The Quebec Health Minister Christian Dube announced on Monday the closure of casinos, as well as other types of entertainment facilities. There is already a strain on the region's health system. Other facilities that are closed include bars, bingo halls, and establishments with video lottery terminals. About 2,300 Loto-Quebec workers are impacted by these closures.
In Canada as a whole, there are 114 casinos, as well as about 200 bingo halls, and numerous other types of gaming centers. About 183,000 people get employment through these types of gaming-related facilities.
Issues elsewhere
Quebec is not the only province that is taking action. The Ontario government has decided to cut the capacity at casinos in the province to 50%. There are also new restrictions on people drinking or eating on the casino floor. Face coverings have to be worn and only people who are fully vaccinated are able to enter casinos.
New restrictions are set to come into place in Alberta on Christmas Eve. This will also see a 50% capacity on casinos, as well as proof of vaccination is necessary. The same sort of situation has already been implemented at casinos in British Columbia, Manitoba, and Nova Scotia. Casinos in New Brunswick will be facing 50% capacity curtailments from midnight on December 26. There is no clear timeline as to when these casinos will reopen or return to full capacity without the different forms of restrictions.
Written for online-casino.ca by Paul Lucas - 23-12-2021