Ontario Open Sports Betting Market Facing Further Delays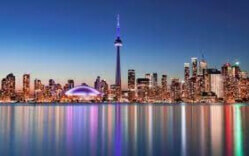 It looks like the expanded sports betting market in Ontario has hit yet another delay. The latest barrier appears to be a local casino group. A report issued by Great Canadian Gaming (GCC) last week claims that the rollout of iGaming would likely lead to lost jobs and lower tax revenue.
GCC is the largest operator of land-based casinos in the province. It believes that land-based revenue would be cannibalized by the launch of online casinos. Therefore, this could put as many as 2,500 jobs in danger and lead to a drop in tax revenue of about $2.65 billion over a five-year period according to the report.
Making demands
In the report, the GCC made a number of demands relating to sports betting in Ontario. It is calling for a two-year exclusivity period for land-based operators over online operators. It also wants there to be comparable tax rates in place for retail operators and iGaming operators.
Currently, land-based casino revenue is taxed at a rate of 55%. It wants only land-based operators to be able to get online casino licenses, while it also wants there to be a limit on the number of online sports betting licenses, with the possibility of a tether to land-based facilities.
Online gambling operators have questioned numerous aspects of this GCC report. Speaking to local media DraftKings said that nothing would change when it comes to the entertainment habits of players. It believes that those people who have been playing online poker, casino games, and placing sports bets with offshore sites would be transitioning over to the legal market.
DraftKings believes that those people who refer to currently play at land-based facilities will continue to do so. Therefore, DraftKings does not believe that online gambling will have much of an impact on land-based operations.
Possible launch date
There are concerns that the GCC report could lead to a delay of the launch of expanded online sports betting in Ontario by as many as three months. The original launch date was by the end of March. This was after there was already one pushing back of the launch date.
One positive for online operators is that the four other operators of land-based casinos in Ontario have not come out publicly to support the GCC's stance. There is also the matter of a provincial election taking place in Ontario in June.
There are some who believe that the launch could be pushed back to after this date. Online operators are very eager to launch in Ontario as it is a very large potential market. It is equal to the fifth-largest US state in terms of population.
Written for online-casino.ca by Paul Lucas - 25-01-2022