Launch Date for Online Ontario Sports Betting Market Revealed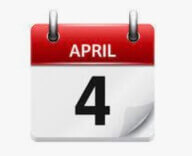 There is now a date set in stone for the launch of both the sports betting and iGaming sectors in Ontario. iGaming Ontario has confirmed that both of these markets will be able to launch on April 4.
Only those operators that have the relevant licenses and full approval will be able to go live on this date. Currently, there is no limit in place as to how many licenses can be handed out. However, it appears that initially there will be about 30 online operators that will be looking to launch.
Delay after delay to the launch timeline
There have been numerous delays to the launching of these online markets. Therefore, operators have been dealing with a lot of uncertainty. Some parties were concerned that local casino operators were going to kick up a fuss and cause even further delays. This was because the operators of certain land-based facilities had concerns that their business would be severely impacted by the launch of online casinos.
A big gambling market
The Ontario online gambling market is set to be significantly sized. There are almost 15 million people living in the Canadian province. This is equivalent to Ontario being the fifth biggest US state in terms of population.
There is also a huge interest in sports from the local population. This is helped with numerous professional sports teams being located in the province, most notably in Ontario where there are five professional sports teams. This covers the MLB, CFL, NHL, NBA, and MLS. There are also teams based in Ottawa and Hamilton.
Most major operators interested in the Ontario market
Most major US sports betting operators are looking to eventually get up and running in the Ontario market. Some operators have already built up a head start on others. Three operators got approvals for licenses last week.
These were PointsBet, theScore, and Rivalry. All of these operators either have roots in Ontario or have offices up and running in the province. Many of these operators have also struck deals with local organizations. This includes PointsBet having an official relationship with numerous local media networks like The Nation Network and the DailyFaceOff.
Other operators that have an eye on launching in Ontario include BetMGM, DraftKings, and FanDuel. These three operators often dominate the US market and will be looking to do the same upon launching in Canada in the coming months. FanDuel in particular has spoken about how it will be tailoring its product to focus on Canadian bettors. This means placing more of a focus on local sports of interest.
Written for online-casino.ca by Paul Lucas - 07-02-2022